Hey, welcome to the super cool low-tech search page!
To search for something, hit Ctrl+F (or Apple+F) and type what you're looking for. Let your browser do all the work!!! If your text is in one of the commands or captions, it'll show up here.
Dang, it doesn't get much easier!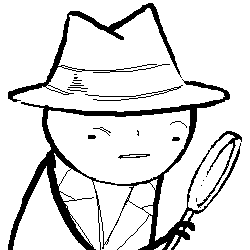 10/04/09
SBURB BETA
A young man stands in his bedroom. It just so happens that today, the 10th of April, is this young man's birthday. Though it was ten years ago he was given life, it is today he will be given a name!

What will the name of this young man be?
10/04/09

ZOOSMELL POOPLORD

TRY AGAIN, SMARTASS

11/04/09

CON AIR

CONTACT

APRIL

GAME BRO

Your name is JOHN. As was previously mentioned it is your BIRTHDAY. A number of CAKES are scattered about your room. You have a variety of INTERESTS. You have a passion for REALLY TERRIBLE MOVIES. You like to program computers but you are NOT VERY GOOD AT IT. You have a fondness for PARANORMAL LORE, and are an aspiring AMATEUR MAGICIAN. You also like to play GAMES sometimes.

What will you do?
11/04/09

WHENEVER YOU SEE THIS ICON, IT MEANS THERE IS SOMETHING IN THE ROOM NEARBY THAT CAN BE CLICKED.

AND YOU SHOULD CLICK IT!

Your ARMS are in your MAGIC CHEST, pooplord!
12/04/09
The icon is not a visibile or tangible entity! Characters in the game cannot interact with it, you blubbering imbecile!
12/04/09
YES
Out of sympathy for John's perceived lack of arms, you pick up the CAKE for him and put it on his BED.
12/04/09
You retrieve your FAKE ARMS from the chest. You use these sometimes for HILARIOUS ANTICS.

You place them in your SYLLADEX. There are other items in the chest.

------------------------

THANKS FOR PLAYING THE HOMESTUCK BETA!

THE STABLE RELEASE IS NOW AVAILABLE FOR YOU TO PLAY!