Contact me
I'm the fan who compiled this reader. My name is Anthony Bailey. Hello!
If there's some problem with it, then you are welcome to contact me. Email is your best bet. Can't promise fixes in time for the tight re-reading schedule, though!
On the MSPA Forums I am psychoticBark.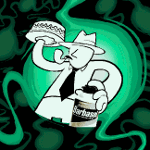 I rarely check private messages there, though! I guess I'll be around the Three-read forum thread whilst the re-read is going on. And I do track the Fan Project thread for the offline archive on which the reader was extracted.